Export z Substance Painter
Substance Painter je velice šikovný program, který umožňuje texturovat 3D modely a to přímo importované ze 3ds max jako FBX model. Tento model pak jednoduchým nástrojem automaticky vytvoří základní mapy, které budeme využívat a tím jsou:
Base Color (RGB)
Metallic (L8)
Roughness (L8)
Normal (RGB)
Height (L16F)
Systémové Textury pro úpravu:
Normal
World Space Normal
Ambient Occlusion
Curvate
Position
Thickness
Nastavení pro export ze Substance Painter pro hru TRS2019 (PBR Textury)
Exprot Textur (Ctrl+Shift+E) z horní nabídky zvolíme Konfiguraci a v levém sloupci vytvoříme nové výstupní nastavení pro textury. Ve výstupním nastavení budeme mít tři řádky a to albedo; normal; parameters (více zde).
$textureSet albedo
$textureSet normal
$textureSet parameters
Albedo RGB+A a to RGB = Base Color; A = f0 a to jako Alpha
Normal RGB+A a to RGB = Normal; A = Height a to jako (Grayscale)
Parameters R+G+B+A a to R = Emisse; G = Roughness (Grayscale); B = Ambient Occlusion (Grayscale); A = Metallic (Grayscale)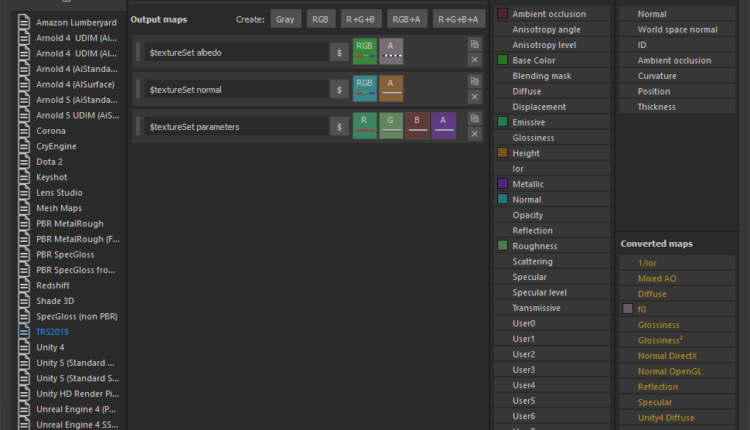 Export pak musíme zvolit jako targa velice důležité! TGA soubor bude v 32 bitové verzi, protože používáme alpha kanál, který využívá i TRS 2019 u paralax textur. Velikost soborů je na každém uvážení, jelikož čím větší textur tím více dat bude hra využívat, doporučuji max 1024×1024 px.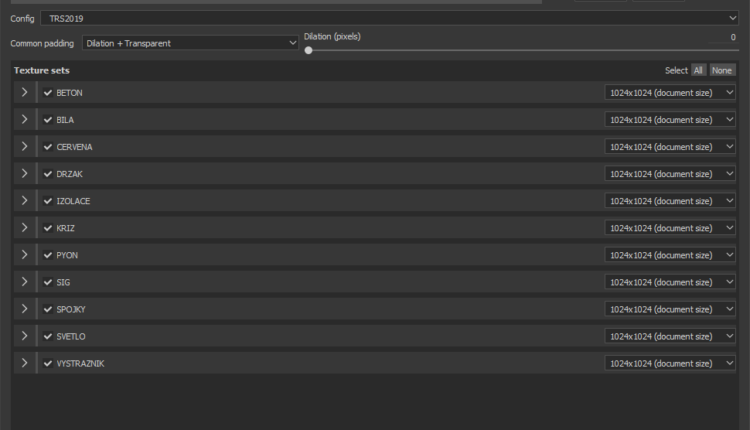 Pokud exportujeme parameters texturu do Photoshopu mělo by se vám v Kanálech zobrazit RGBA, všechny pozice by měli být zabrané. Každá pozice zobrazuje samostatnou texturu.